A True Partnership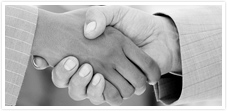 Our Success is Based on Relationships: For us to be able to be able to meet the growing and demanding needs of our clients, we must be able to rely on the relationships we have with our contractors; abstractors, attorneys and closing companies. "The whole is greater than the sum of all parts"; we can only achieve our goals and provide service to our clients, if we all work together and believe in the same vision.
Our contractors are a group of highly trained and knowledgeable real estate title and appraisal professionals that are dedicated to consistently meeting our expectations both ethically and professionally so we can provide the best service this industry has to offer to our clients. Only through their complete commitment to our vision is this possible.
We place the same demands on our contractors that we do on our employees; understand what is expected, make a commitment, then execute to the best of your ability. The loyalty, dedication and professionalism of our partner network is critical to our continued success.
Payment Process: Within a couple days of the end of the month, we begin the process to pay all of our contractors for the work completed during that calendar month. Once the process of reconciling your account is completed, an email is sent notifying you and includes a csv file with the details of the reports and amounts paid. This process can take a couple of days depending on the volume of work and number of payments that need to be made. The second step is these reconciled statements are sent to our bill payment system for the processing of checks or ACH transaction to each individual contractor. Payments usually arrive within 5 working days days of receipt by our bill payment system.
News
October 1, 2012 - Payment Process: Paying our partners in a timely manner has always been our commitment; as business increases, so too does the amount of time it takes to process your statements but we remain committed to providing the necessary resources to ensure you are paid within the committed time frame. Find all the information at the "All About Billing" section of the Menu.
October 13, 2011 - Abstractors Required to Carry E&O: With the current state of the housing market, it's no surprise that claims are overwhelming the title insurance industry... Read Complete Article